fireflys_locket
Interested in checking out my books? Here's the place to go!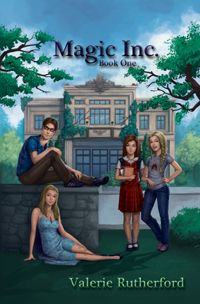 Magic Inc. (Magic Inc. Book One) (August 2015)

Jane Roberts never fit in. After years of teasing from her classmates, all she wanted was to blend in and be normal. But on Jane's first day of fourth grade, her life changes completely when the new girl, Jenny, brings with her arrival the secret of magic. Jane goes into training, where she learns the ins and outs of magic and its great history. But not even magic can top the feeling Jane gets when she meets Chaz Parker, Jenny's older brother. She's head-over-heels and wants to be with Chaz forever, but a nine year age difference makes Jane wonder if he'd ever look at her that way. Between learning magic and falling in love, Jane's year is bound to be anything but normal.

Teaser Links:
Book Trailer
First Time Magic: An Excerpt

Purchase Links:
Amazon (for Kindle)
Barnes & Noble (for Nook)
iTunes (for Apple Devices)
Smashwords (most digital formats available)
Amazon (for Print Edition)
Createspace (for Print Edtion)

Community Links:
Goodreads (Add to Collection)
LibraryThing (Add to Collection)
Pinterest Board (Character Designs)
Spotify Soundtrack (Listen Along)

~~~

Synchronicity (Magic Inc. Book Two) (2017)

Info coming soon!

~~~

Dreaming in Shadow

Info coming soon!